R J Hillhouse (who has a fascinating background) found that when she double clicked a graph on a slide deck belonging to the office of national intelligence (available from the DIA website), the linked spreadsheet popped up..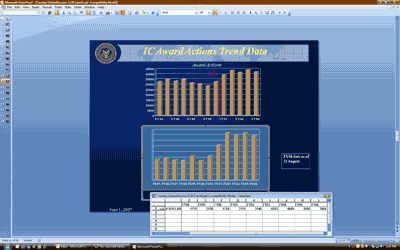 This effectively revealed "the dollar amounts in tens of millions spent by the US Intelligence Community on contractors".
Aages ago lcamtuf highlighted info leakage through MS Office files, and it seems these days lots of folks are making lots of money selling blackbox, i will prevent data leakage in your organization type kit.. i haven't looked in depth at too many of them but have to wonder how many of them would have caught the embedded spreadsheet at all..
/mh