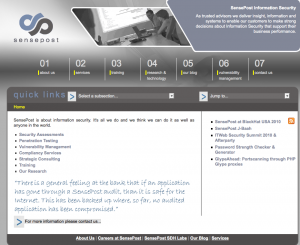 Sigh. We've never been much good at marketing or advertising, and I guess we still aren't. But we have tried to give our old website a bit of a face-lift, and it's starting to feel like we're finally making some progress.
Certainly most of the content is new and accurate and and certainly its much more comprehensive than our previous one. We've also gone to some effort to implement a more user-friendly CMS that will allow us to keep the content more current and interesting.
Please do us the favour of checking the site out at www.sensepost.com and letting us know what you think.
For those of you reading this blog, the following links would probably be the most useful:
Thanks for visiting, and again, please let us know what you think.