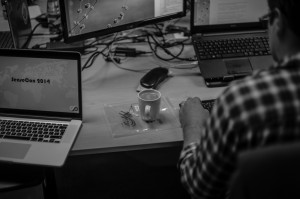 What originally started as one of those "hey, wouldn't this be cool?" ideas, has blossomed into a yearly event for us at SensePost. SenseCon is a time for all of us to descend on South Africa and spend a week, learning/hacking/tinkering/breaking/building, together and in person.
A few years ago we made the difficult, and sometimes painful, shift to enable remote working in preparation for the opening of our UK and Cape Town offices. Some of you probably think this is a no-brainer, but the benefit of being in the same room as your fellow hackers can't be overlooked. Being able to call everyone over to view an epic hack, or to ask for a hand when stuck is something tools like Skype fail to provide. We've put a lot of time into getting the tech and processes in place to give us the "hackers in the same room" feel, but this needs to be backed with some IRL interaction too.
People outside of our industry seem to think of "technical" people as the opposite of "creative" people. However, anyone who's slung even a small amount of code, or even dabbled in hacking will know this isn't true. We give our analysts "20% time" each month to give that creativity an outlet (or to let on-project creativity get developed further). This is part of the intention of SenseCon: a week of space and time for intense learning, building, and just plain tinkering without the stresses of report deadlines or anything else.
But, ideas need input, so we try to organise someone to teach us new tricks. This year that was done by Schalk from House 4 Hack (these guys rocks) who gave us some electronic and Arduino skills and some other internal trainings.  Also, there's something about an all-nighter that drives creativity, so much so that some Plakkers used to make sure they did one at least once a month. We use our hackathon for that.
Our hackathon's setup is similar to others – you get to pitch an idea, see if you can get two other team mates on board, and have 24 hours to complete it. We had some coolness come out of this last year and I was looking forward to seeing what everyone would come up with this time round.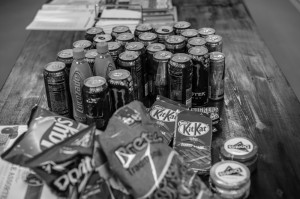 Copious amounts of energy drinks, snacks, biltong and chocolates were on supply and it started after dinner together. The agreed projects were are listed below, with some vagueness, since this was internal after all :)
pORTAL anonymous comms device – Sam & Dr Frans
Getting a modified version of Grug's pORTAL device working on a Beagle Bone and Rasperry Pi for us to use while traveling.
Video Conferencing – Craig and Marc
For video conferencing we normally use a combination of Skype, Go-To-Meeting, Google hangouts, or a page long gstreamer command piped over a netcat tunnel (I'm not kidding). Craig and Marc built an internal video conferencing solution with some other internal comms tools on the side.
SensePost Radar – Keiran and Dane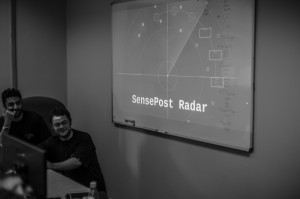 SensePost Radar
Keiran and Dane put our office discone antenna to good use and implemented some SDR-fu to pick up aeroplane transponder signals and decode them. They didn't find MH370, but we now have a cool plane tracker for SP.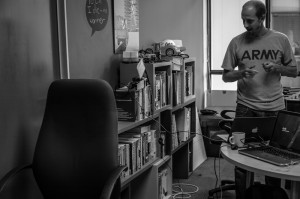 Charl, so incredibly happy!!
Using wifi-deauth packets can be useful if you want to knock a station (or several) off a wifi network. Say you wanted to prevent some cheap wifi cams from picking you up … Doing this right can get complicated when you're sitting a few km's away with a yagi and some binoculars. Charl got an arduino to raise a flag when it was successfully deauthed, and lower it when connectivity is restored for use in a wifi-shootout game.
Burp Collaboration tool – Jurgens, Johan & Willem
Inspired by Maltego Teeth, Jurgens set about building a way to have multiple analysts collaborate on one Burp session using a secure Jabber transport. He and Johan got this working well, and we will be releasing it and several other Burp apps during the ITWeb Security Summit in Johannesburg in May.
How to Pwn a Country – Panda and Sara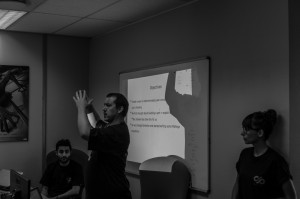 YMCA pwnage
Panda (Jeremy) and Sara ended up building local Maltego transforms that would allow mass/rapid scanning of large netblocks so you can quickly zoom in on the most vulnerable boxes. No countries were harmed in the making of this.
While doing client-side engagements, we realised we needed our own payload to help us to better move from spear-phish to persistent internal network access. Earlier in the year, Vlad put our hacks into a professional SensePost beaconing payload he called Bender. During the hackathon he extended its capability in some key areas.
Oh-day stuffs – Georg and Etienne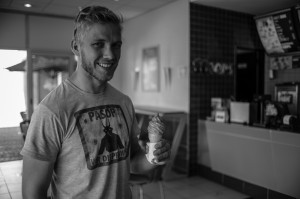 He likes his ice-cream
gcp and et decided on some good ol'fashioned fuzz-n-find bug hunting on a commercial mail platform, and websense. Along the way they learned some interesting lessons in how not to fuzz, but in the end found some coolness.
Rogan finally got around to putting his 3D printer together! He hasn't printed an SP logo yet, but we're assuming this is the most logical first print.
In preparation for our BlackHat submission, singe and ian spent some time researching our new wifi attacks. This resulted in a key new finding and implementation of their new KARMA rogue-ap attack.
I too had to show that I still had tech skills (not all spreadsheeting you know) and created a challenge to send our peeps down the rabbit hole while pushing their skills but also awaken some old school hacking approaches.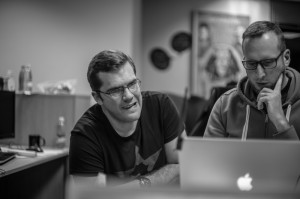 The hackathon went gangbusters; most of the team went through the night and into the morning (I didn't, getting old and crashed at 2am). Returning that morning to see everyone still hacking away on their projects (and a few hacking away on their snoring) was amazing.
Once the 24-hours was up, many left the office to grab a shower and refresh before having to present to the entire company later on that afternoon.
Overall this years SenseCon was a great success. Some cool projects/ideas were born, a good time was had AND we even made Charl feel young again. As the kids would say, #winning