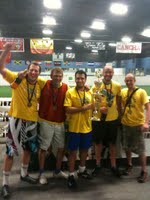 From the team that won the world's first Soccer Hack Cup, we bring you the latest and the greatest  in computer hacking training – SensePost Hacking By Numbers Extended Edition – a local course that combines two of the brand new courses we just finished presenting at Black Hat Las Vegas.
The training will be offered in Brooklyn Pretoria from 14 – 17 September 2010. Here's how it will work:
Ok ok ok, so Pretoria is not exactly Vegas, but the courses are fresh and updated and packed full of exciting new content, tools and techniques.
For more information visit our Extended Edition page, or drop us a note via training[at]sensepost[dot]com.