As we draw nearer to Black Hat Vegas we get a lot of requests from people who need help choosing between one of our courses or the other. In order to provide people with a single, consolidated summary of all the courses we'll be offering this year I've put together a rough summary doc that outlines all the courses and attempts to illustrate how they fit together. Get it here:
sensepost_training_overview_0711_admin
What perhaps doesn't come through well in that doc is how to go about planning your training schedule. As you know there are two training sessions – the 'weekend' (30 – 31 July) and the 'week' (01 – 02 August). Some providers offer 4 day training sessions, but we've offered to stick to 2-day 'modules' that can be mixed and matched as required.
The courses we're offering are:
A summary of all these courses can be found here.
Now, each of these courses can be taken individually, but if you look at the diagram below you'll see they're also designed to be slotted together as congruent 4-day sessions.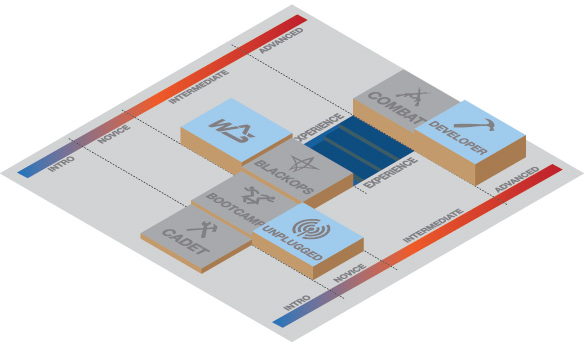 As I've mentioned, the courses can all be taken individually, but the popular combinations are:
Cadet -> Bootcamp (beginners)
Cadet -> Unplugged (Wifi, beginners)
Cadet -> W^3 (Web Hacking, beginners)
Bootcamp -> BlackOps (Intermediate)
Bootcamp -> W^3 (Web Hacking, intermediate)
BlackOps -> Combat (advanced)
Still can't make up your mind? Give us a shout and we'll be glad to help you out…